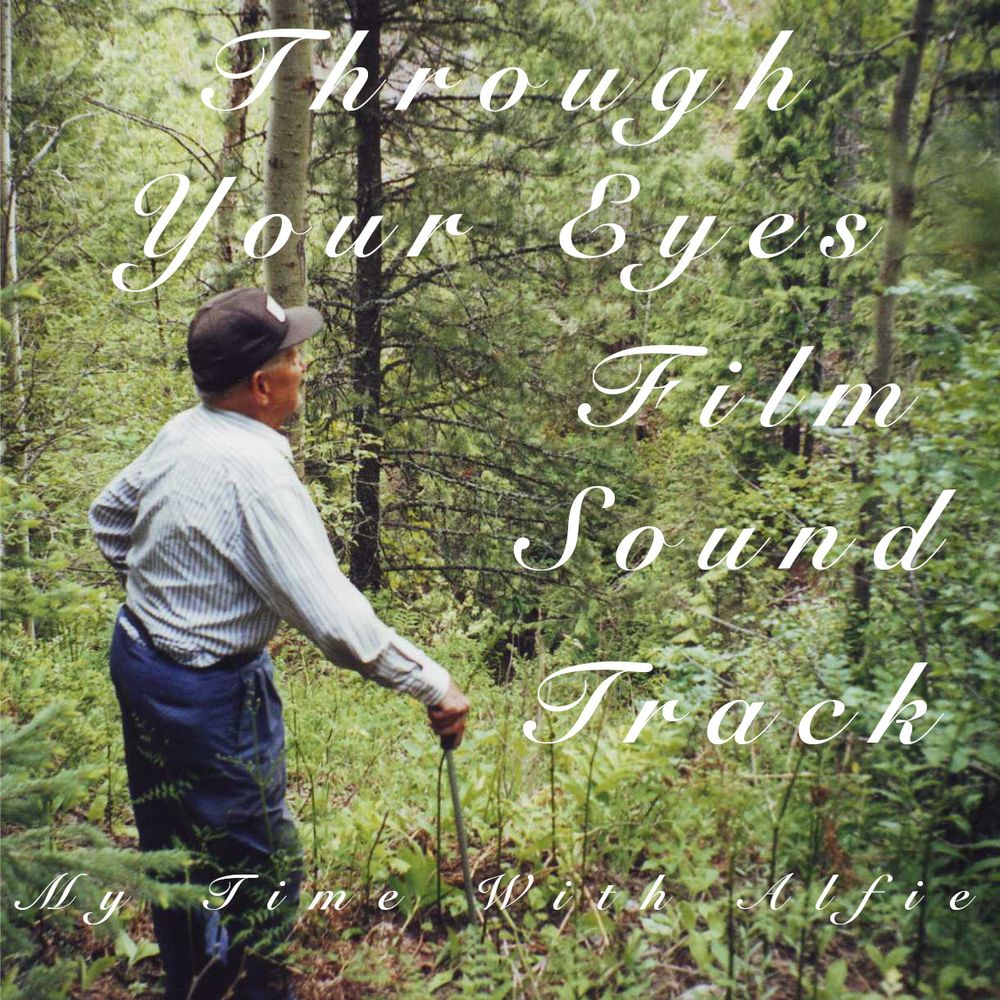 through Your eyes film soundtrack
My time with Alfie
Some of my favourite moments with Alfie Albo, on stage, in his basement, and in my studio
THE COVER ART
I took this photo in 2004 at the site of the north abutment of the old Stony Creek Bridge.  Alfie hadn't been back to the site since the accident in 1930
✍ <> ✍ <> ✍
PROJECT NOTES 
In the early hours of the 2nd of March 2006, I lay awake thinking of Fanny, who had passed away on the 19th of February.  Unable to sleep and with Fanny's voice in my head, I got up and began the song "Fanny's Gift".  Later that morning, as I was working on the song and almost finished, Alfie, missing his wife of 70 years terribly, passed on.  Alfie's son Jerome called me, gave me the news, and came and got me and took me with them to the hospital to say our goodbyes. 
Born in 1909, Alfie left this life as he'd lived it … on his own terms.  During his life he saw the first automobiles in town.  Twice he saw Halley's Comet … on his first birthday and on his 77th birthday.  As a child he took his first violin lesson 1400 feet underground in the mine.  As a young man in the 1920s he played in the silent movies.  In the 1930s he played dances on the same stage we played The Miners Hall Concerts on.  He shot his last moose at the age of 81.  Righrt to the end he had the best memory of anyone I've ever known.  He could put a picture in your mind of what life was like 100 years ago.  I hope those of you who knew him will have a smile when you listen to this, as he would have wanted.  And I hope those of you who didn't know him will get some sense of how truly uplifting he was.  He was my very dear friend and I miss him.  I wasn't ready for him to go.  He was as you hear him here until the day he died. 
✍ <> ✍ <> ✍ 
Toe Tappin' No Rappin' 
©2003 Wayne Krewski (SOCAN) 
Words, music, guitars, and melody vocals by Wayne Krewski <> Clarinet by Mary Lynn Manwell <> Harmony vocals, coronet, and mandolin by Michael Gifford 
✍ <> ✍ <> ✍
The Jug In The Sun 
©2003 Wayne Krewski (SOCAN) 
Words, music, guitars, and vocals by Wayne Krewski <> Recorded at the Miners Hall in Rossland on the 3rd of January 2004 <> Filmed by Alistair Fraser  
✍ <> ✍ <> ✍
Pistol Shot 
Filmed by Karen Albo-Price in Alfie's basement on the 27th of December 2004.  Off Camera voice is Carol Albo <> Mrs. Gregory, who taught Alfie, was mother to Phylis Gregory Ross, an extraordinary woman of many impressive accomplishments and titles in her own right, and herself mother to former Canadian Prime Minister John Turner.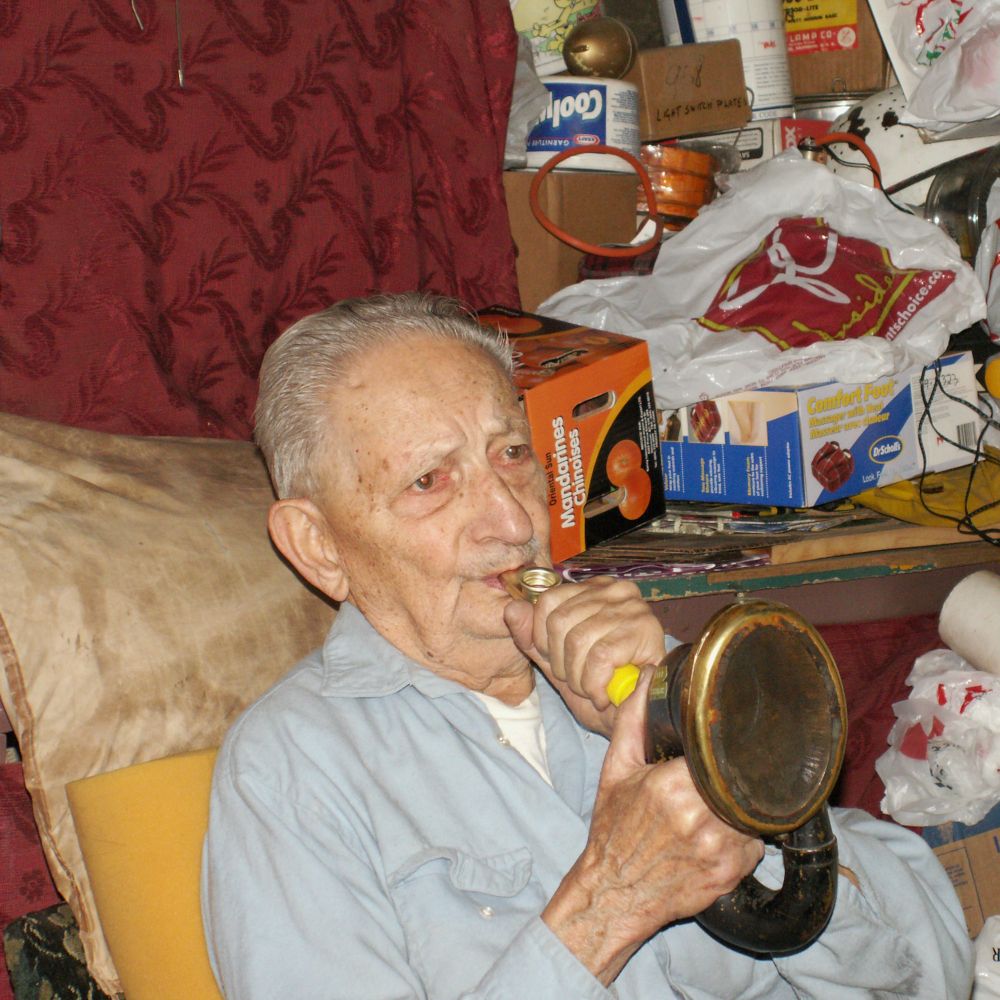 Alfie blowing the CaddyHorn in his basement.  One day we were lamenting that he couldn't play the violin anymore, but he still had all this music in him.  He mentioned that he used to play the kazoo, so I went and got him some.  His eyes lit up and he said he had an old horn off a 1912 Cadillac around somewhere.  So we looked around in the rafters and found it !  He stuck the kazoo into it and the CaddyHorn was born.  He had told me a story long ago about an old abandoned 1912 Cadillac down by the old Catholic cemetery.  It belonged to a Chinese fellow known as Mark Han, and hadn't been used in many years.  When Alfie was about 10, he and Lou Crowe decided to take it for a joy ride, so they put a monkey wrench on the steering column to replace the missing steering wheel, pushed it over the hill, and went for a ride, until Corporal Johnson, who lived in the old log cabin along the creek by what was later the golf course, caught them and dragged them home by their ears.  Then one day as we were playing some songs, he said something that made me realize the horn was from that Cadillac.  It's now in my studio and I blow it now and then, usually on his birthday, but never like he could !  In Pistol Shot you can hear him blowing.