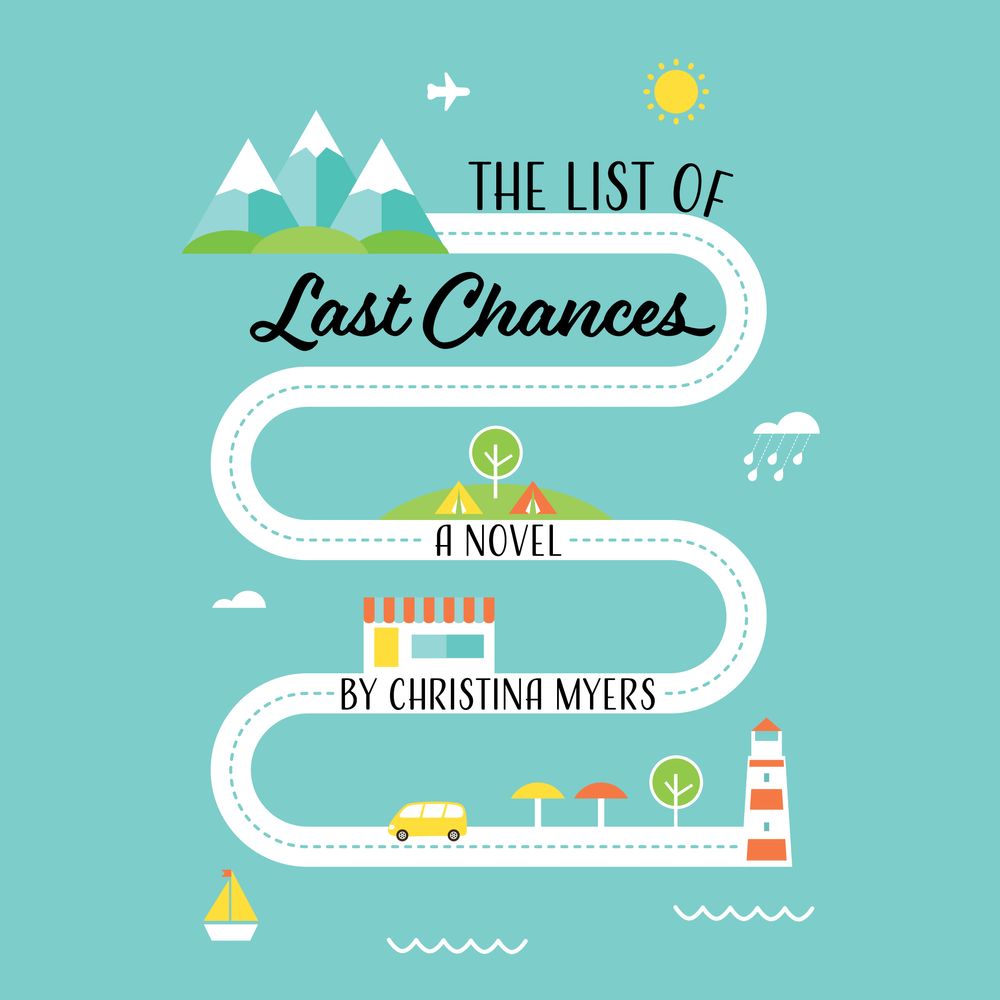 Sessions - The List of last chances
A debut novel from Christina Myers
In this witty and heartwarming novel, Ruthie launches a last-ditch effort to pull herself up from rock bottom, only to discover that life and love don't always go as planned. 
Listen to the session here  :  Sessions : The List Of Last Chances 
Watch the trailer here  :  The List Of Last Chances Trailer
Or scroll down to read about the project
At thirty-eight years old, Ruthie finds herself newly unemployed, freshly single, sleeping on a friend's couch and downing a bottle of wine each night. Having overstayed her welcome and desperate for a job, Ruthie responds to David's ad: he's looking for someone to drive his aging mother, Kay, and her belongings from PEI to Vancouver. Ruthie thinks it's the perfect chance for a brief escape and a much-needed boost for her empty bank account. 
But once they're on the road, Kay reveals that she's got a list of stops along the way that's equal parts sightseeing tour, sexual bucket-list, and trip down memory lane. As David prods for updates and a speedy arrival to his home in Vancouver, Kay begins to share details about a long-lost love and Ruthie takes a detour to play matchmaker, but finds herself caught up in a web of well-intentioned lies. 
With the road ahead uncertain, and the past and present colliding, will Ruthie be able to forge a new path? Heartfelt and humorous, The List of Last Chances follows a pair of reluctant travel companions across the country, into an unexpected friendship, new adventures, and the rare gift of second chances. 
 ✍ <> ✍ <> ✍
REVIEWS
Ali Bryan, author of The Figgs and a finalist for the Stephen Leacock Medal for Humour called it "a snappy soaring read, a postcard perfect debut".   
Cassie Stocks, author of Dance, Gladys, Dance, winner of the 2013 Stephen Leacock Medal for Humour had this to say : "Taking control of one's life involves making choices and taking chances. In this tender and marvellously comical novel, a 'good enough' existence is not enough. A coast-to-coast road trip (featuring breakdowns both mechanical and psychological, heartache, joy, and a large penis-shaped rock) takes us on an entertaining and enlightening journey. We all have the opportunity to follow our 'desire lines.' The List of Last Chances shows us the way."   
It was named a Shrapnel List Mag most anticipated for spring 2021.
✍ <> ✍ <> ✍
CONTACT
Anyone interested in the book can order it through their local independent bookstore or find it online at major retailers like Indigo and Amazon - or ask your local library to bring in a copy or two! The book is available April 30 in Canada and in the autumn for readers in the US. Find out more about Christina and any upcoming launch events and public readings at her website,   www.cmyers.ca   and read more about The List of Last Chances on the publisher's website here:   https://caitlin-press.com/our-books/list-of-last-chances   Caitlin Press is a long-time award-winning publisher based here in BC.
✍ <> ✍ <> ✍ 
CHRISTINA'S BIO
Christina has been a freelance writer and editor, and a community journalist.  She has degrees from UBC in psychology and Thompson Rivers University in journalism.   And she's an Alumnus of the Writer's Studio at SFU Vancouver, and currently teaching a new writing program she designed herself at SFU Continuing Studies
✍ <> ✍ <> ✍
A QUOTE FROM CHRISTINA
"So much of fiction and non-fiction are intertwined, even though they are distinct genres - as a writer who usually works in non-fiction, it was so much fun to write a novel where I could make things up, pick and choose plot lines and characters, but also insert real memories, too. Many of the places that Ruthie and Kay go in this book are places I've been on in my own road trips over my life. I hope that readers will get a kick out of going on this trip with them - especially this year when we haven't been able to travel as much as we might normally." 
Christina Myers
7 April 2021
✍ <> ✍ <> ✍
THE SONGS
Greensleeves 
Legend has it that Greensleeves was written by Henry VIII for Ann Boleyn when they were courting.  The first known published version was in 1580, and many historians say that the Italian style it was written in hadn't reached England at the time of Henry's death in 1547.  In any case, the story of the song is a good match for Henry and Ann's story, and it was referenced in a couple Shakespeare's plays.  Henry was an accomplished poet, musician, and song writer, and his court was a cultural centre of Europe at the time.  Henry often sat in with the musicians.  The "What Child Is This" lyric was written by William Chatterton Dix in the 1880s 
This is my arrangement for one guitar (flat picking) in 3/4 time and two guitars (one flat picking and one finger style) in 4/4 time.  The first and third verse/refrains are in 3/4 time at a tempo of 120 bpm.  The second and fourth verse/refrains are in 4/4 time at a tempo of 160 bpm.  This gives an identical time span for a verse in both 3/4 time and 4/4 time, so although the 4/4 time feels faster, it's actually identical in terms of time span, and the difference is only in the feel of it due to the extra notes.  This is one of the things I was exploring in the project.  All guitars and vocals, piano and recorder scores are by Wayne Krewski.  The choir is by Nanuk … she used to sing when I played the harmonica, and she was always on key, so I took a piece of that and used pitch shift to get the harmonies and match the chord changes.  The lyrics are as first published in 1580.  This song can be found on the "A Study In Greensleeves" project.  In that project I also explore more arrangements and tempos in "What Child Is This".  There I play 3/4 flat picking guitar and Roelof Helberg plays 3/4 finger style guitar at a tempo of 120 bpm, and in the 4/4 breaks I play flat picking and finger style guitars at a tempo of 140 bpm.  Roelof Helberg sings the Afrikaans vocal and I sing the English vocals.  The pipe organ at the end was played by Jack McDonald, recorded at his home in 1964 on the pipe organ he built himself …. it had 660 pipes and he built his house to accommodate it.
✍ <> ✍ <> ✍
His Perfect Girl 
©1975 Wayne Krewski (SOCAN) 
I spent the winter of 1975 skiing in Europe, mostly in Austria.  On the first full moon of the year they had a celebration they called Old Mahuta.  Fifty of us skied into a lodge in the Alps and spent the night.  This song came from a conversation with a couple I met that night.  In 2015 I came across some lyric sheets of old songs I wrote while in Europe, and started playing around with a guitar style I was using on 12 string guitar back then.  I've spent years listening to Doc Watson.  Now Doc was arguably the best steal string acoustic guitar player there ever was.  Some people argue that this or that guitar player could play faster or whatever, but here's what they're missing.  Well firstly they're usually comparing an older Doc to a younger someone else.  But to fully appreciate Doc you have to listen to what he's doing in the background.  For example, listen to the album "Reflections" Doc did with Chet Atkins.  When Doc has the lead, Chet backs him up with a very simple rhythm that supports Doc while Doc fills the space as he was so good at doing, but when Chet has the lead, Doc backs him up with a very intricate, multi-layered guitar, notes and riffs, that not only supports Chet but enhances Chet without drawing any attention away … at times you hardly even notice Doc playing, it's that smooth and subtle.  I love the way Doc mixed notes, riffs, and chords to create a textured rhythm when he was playing in the background.  I've never managed to even come close to how Doc played but he was my influence, and that was what I was striving for as I adapted my old 12 string guitar style to my current 6 string flat picking style.  that resulted in "His Perfect Girl" which grew into the Contemplation project
✍ <> ✍ <> ✍
 Fanny's Gift 
©2006 Wayne Krewski (SOCAN) 
In the early hours of March 2nd 2006, I lay awake thinking of Fanny, who had passed away Feb 19.  Unable to sleep, and with Fanny's voice in my head, I got up and began writing the song "Fanny's Gift".  Later that morning, as I was working on the song, Fanny and Alfie's son Jerome called, told me to sit down, and gave me the news that Alfie had passed.  They picked me up and took me to the hospital with them to say our good byes.  Alfie was one of the great friendships of my life.
✍ <> ✍ <> ✍
Have You Seen My Covid-Free Gal 
This is my version of the 1925 song "Has Anybody Seen My Gal".  The lyric was originally written by Sam M. Lewis and Joseph Widow Young, and the music by Ray Henderson.  It became public domain on the 1st of January 2021.  It originally had one verse, one bridge, and one refrain, repeated with lots of instrumentation between.  I've added two more sets of lyrics, and changed the arrangement a little. 
✍ <> ✍ <> ✍ 
Waynes Rag 
©2001 Wayne Krewski (SOCAN) 
This is the theme song at the beginning and end, again from the Contemplation project.  Guitars and harmonica by Wayne Krewski. 
Wayne Krewski 
7 Apr 2021
✍ <> ✍ <> ✍